We decided to try something different with the roast instead of the usual potatoes and carrots. We tossed some zucchini, onions, carrots, turnips, potatoes, and peppers in a bit of grapeseed oil and salt, and we let that marinate overnight. That seemed to make the turnips and zucchini less bitter in the final dinner.


I was in a hurry to get into the crockpot and head out the door for the day, so I grabbed a premixed seasoning out of the cabinet and gave the roast a good rub down with McCormick steak seasoning (the Prime Rib Rub one). It turned out pretty darn good.
Enjoy your time in the kitchen!

---
Have a free crockpot recipe book…
With the oncoming Fall season, my family tends to use our crockpot a lot this time of year. We're busy getting school shopping done, dealing with the summer heat, and no one wants to turn the oven on for anything.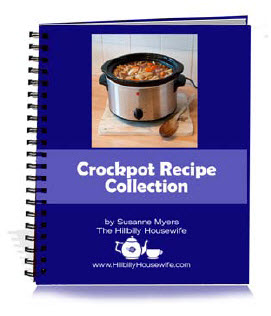 Here's a free download to preview the Crockpot Cooking Collection from Hillbilly Housewife that I think you'll enjoy.
==> Click here to download the free recipe booklet (it's in PDF format)
This little recipe collection is just a short preview of the complete "Crockpot Cooking Made Simple" Package available from the Hillbilly Housewife, but the full collection package includes the following items:
Crockpot Cooking Made Simple eBook
Crockpot Recipe Collection – A full collection of 500 Crockpot Recipes! From appetizers, soups, stews, main course meals, casseroles, drinks and more!
Extras & Bonuses – Homemade Breads & Rolls, Pantry Cooking Guide, Cut Your Grocery Budget in Half, Hillbilly Housewife's Favorite Recipes
You can get the full Crockpot Cooking Made Easy package by clicking here!